INDIAN BANK, a leading Public Sector Bank, with headquarters in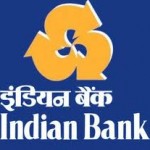 Chennai having geographical presence all over India and abroad invites online applications from Indian Citizens who have taken the Common Written Examination (CWE) for PROBATIONARY OFFICERS conducted by IBPS in September/November 2011 and have a valid Score card issued by IBPS.
Probationary Officer JMGS – scale I : 452 Posts, Pay scale : Rs. 14500-25700,Age : 21-30 years
Payment of Application Fees From 17.02.2012 to 03.03.2012
 Opening Date for Online Registration 17.02.2012
 Last Date for Online Registration 03.03.2012
EDUCATIONAL QUALIFICATION:
1. Graduation in any discipline
(Second Class with 55% aggregate marks / equivalent CGPA)
a. All Educational qualifications, Graduation/ Post Graduation etc. shall be from a University recognized by Government of India. Technical qualification (BE, B Tech, MBA etc.) shall be from an institution accredited by AICTE/ UGC recognition required wherever applicable.
b. Candidates must possess the qualification as on 01.07.2011.
c. The candidates should have proficiency in appropriate computer skills / working knowledge of application packages used in office automation/ computer environment.
d. In respect of SC/ST/OBC/PWD candidates, relaxation in minimum mark for educational qualification will be allowed upto 5% wherever minimum qualifying marks are stipulated.
Note: Candidates must specifically indicate the class / division and percentage of marks obtained calculated to the nearest two decimals in the relevant column of the application. Where no percentage of marks is awarded by the University but only CGPA / OGPA is awarded, the same should be converted into percentage.
IBPS SCORE REQUIREMENT:
Candidates should have obtained the valid IBPS score in each test and in aggregate i.e. Total Weighted Standard Score in the common written examination conducted for Probationary Officers in 2011.
Candidates should be able to produce the Score card in support of the scores mentioned in the online application form, if called for interview.
Total Weighted Standard Score (TWS) :
For General Category – TWS: Minimum 141
For Reserved Category (i.e SC/ST/OBC/PWD) – TWS: Minimum 116
SELECTION PROCEDURE:
Selection for the post of Probationary Officer will be based on the Total Weighted Standard Score (TWS) in the common written examination (CWE) conducted by IBPS in Sept / Nov,2011 and the marks scored in the interview and/or Group Discussion. The candidates belonging to SC/ST/OBC/PWD will be given relaxation in marks as per extant Government guidelines.
Interview and/or Group Discussion:
Depending upon the number of vacancies, the Bank reserves the right to call only those candidates who have valid IBPS score in the stipulated common written examination (CWE) for Interview and/or Group Discussion.
Application Fee :
Rs. 200/- (Rs.50/- for SC/ST/PWD).
Before submitting the online application, the application fee must be paid in cash at any branch of INDIAN BANK only. An application registered online without actual payment of fees will not be entertained.
Click here to Download the notification and Apply of
 Probationary Office recruitment – Indian Bank Po 452 Posts[ad#468x60]